Roadmap & Release Notes
Roadmap
🚀 Upcoming
Project list
Support Markdown for table/field notes
Export database reports/diagrams
Ability to document multiple schemas/databases
📦 Backlog
Project changelogs
Display table groups & header color in diagram
Collaboration
Dark mode
Release Notes
📖 Support Markdown for table/field notes - Oct 11, 2021
The recent outbreak in our country is severe, but that doesn't stop us from improving dbdocs. This time, we bring you the Markdown support for the notes of tables & fields.
Now you can restructure your notes by styling your texts, adding code blocks for database scripts, related links, and so much more.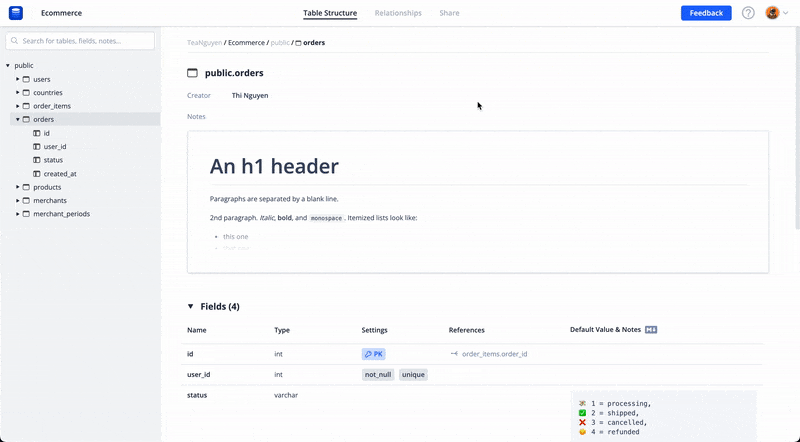 🗃 Project list - Sep 12, 2021
Manage better & view all your database projects via new project list views.
Simply run the dbdocs ls command on the dbdocs CLI version 0.6.1

Or open your organization page by select "My Projects" in the account dropdown menu

💾 Save diagram's table positions - Aug 24, 2021
Your savior, a.k.a save diagram's table positions, is here!
It's very time-consuming before to always move tables around at the beginning of each session.
Now you can sign in & modify the diagram's table positions in your projects. Then every time you & your guests visit, the arrangement in diagrams will stay still.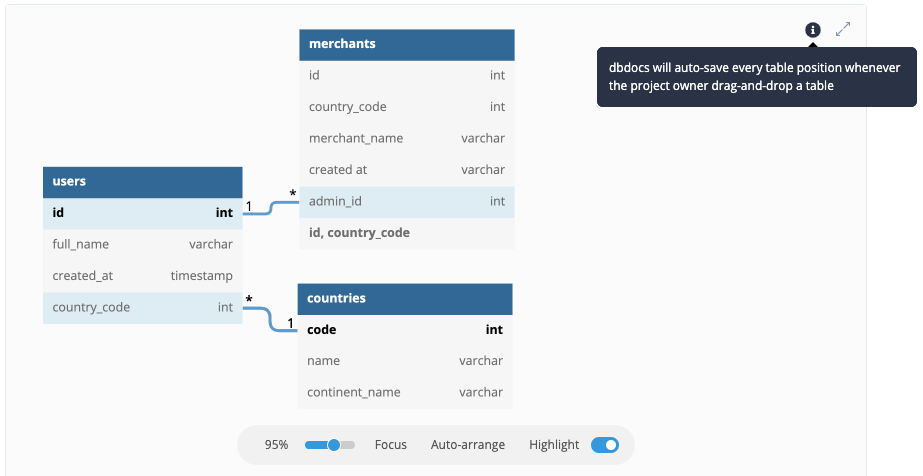 📦 Composite foreign keys - Jul 14, 2021
Due to the dbml syntax gap between our dbdocs & dbml/core, users couldn't use the composite foreign keys.
Guess what? Now you will have the ability to document relationships with composite keys, like the example below:
Ref: merchant_periods.(merchant_id, country_code) > merchants.(id, country_code)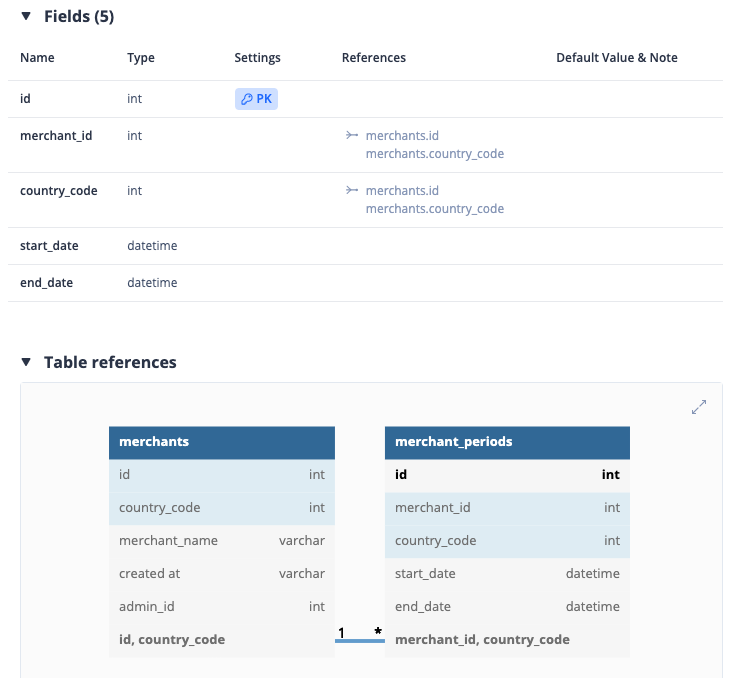 🔍 Search for everything - May 12, 2021
Good news! You can search for fields, notes in dbdocs now.
Due to the lack of search capability, many users have got lost in large, complex databases. If you have too many fields, you won't find the one you want.
Besides lookup by table names, support search by field names, notes are our improvements in this release. We also support the case-insensitive search for getting better results.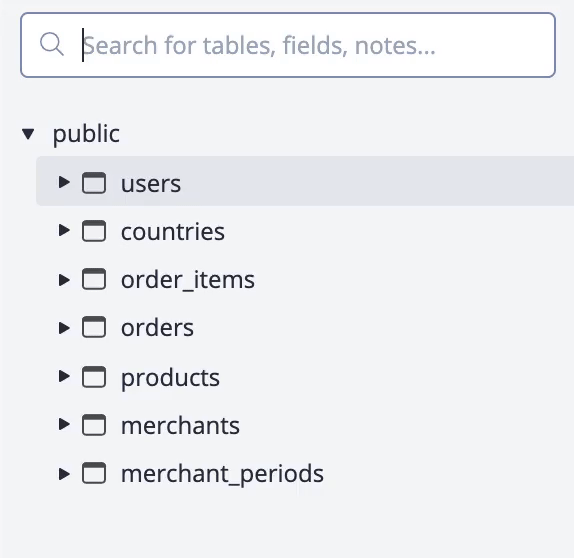 🚪 Login via Email - April 26, 2021
Since login via GitHub is the single option, many users have to use theirs personal GitHub account or even create a new one for documentation purposes.
With the dbdocs CLI version 0.5.0, feel free to connect dbdocs with your work email & improve the workflow now!

📚 dbdocs's Documentations - March 28, 2021
For better features awareness & roadmap tracking, it's time to release our documentations!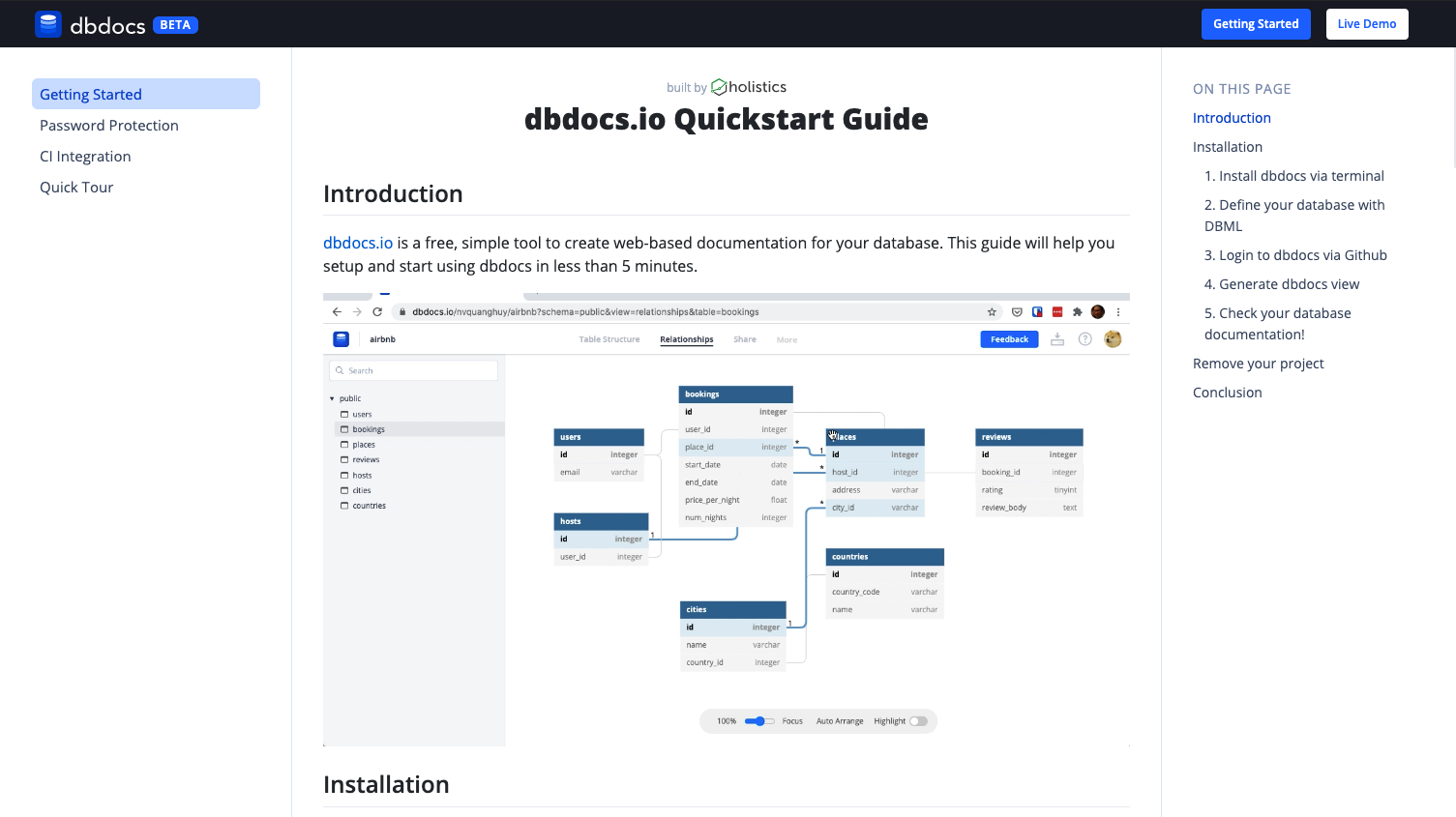 🔄 CI Integration - March 7, 2021
Previously you couldn't set up CI/CD with Gitlab, GitHub Actions, or CI server to automatically generate the docs, because our login process required a web browser and UI.
The dbdocs CLI version 0.4.0 now supports you to build documentation with your unique access token!


Read more about CI Integration in our docs.